When you think of Georgian garden design, it often conjures up visions of big, wide open spaces, complementing even larger homes – perhaps seen in Great Britain Country Houses or on Netflix. Bridgerton.
It may seem difficult to successfully transfer ideas used on such a large scale to a smaller home garden; However, there are many design and planting ideas you can take from that era and apply to a backyard today, no matter how small.
Follow these tips from National Trust gardeners on how to take inspiration from Georgian gardens and incorporate some of the key features and planting styles into garden ideas for your modern backyard.
Georgian garden design – for all garden sizes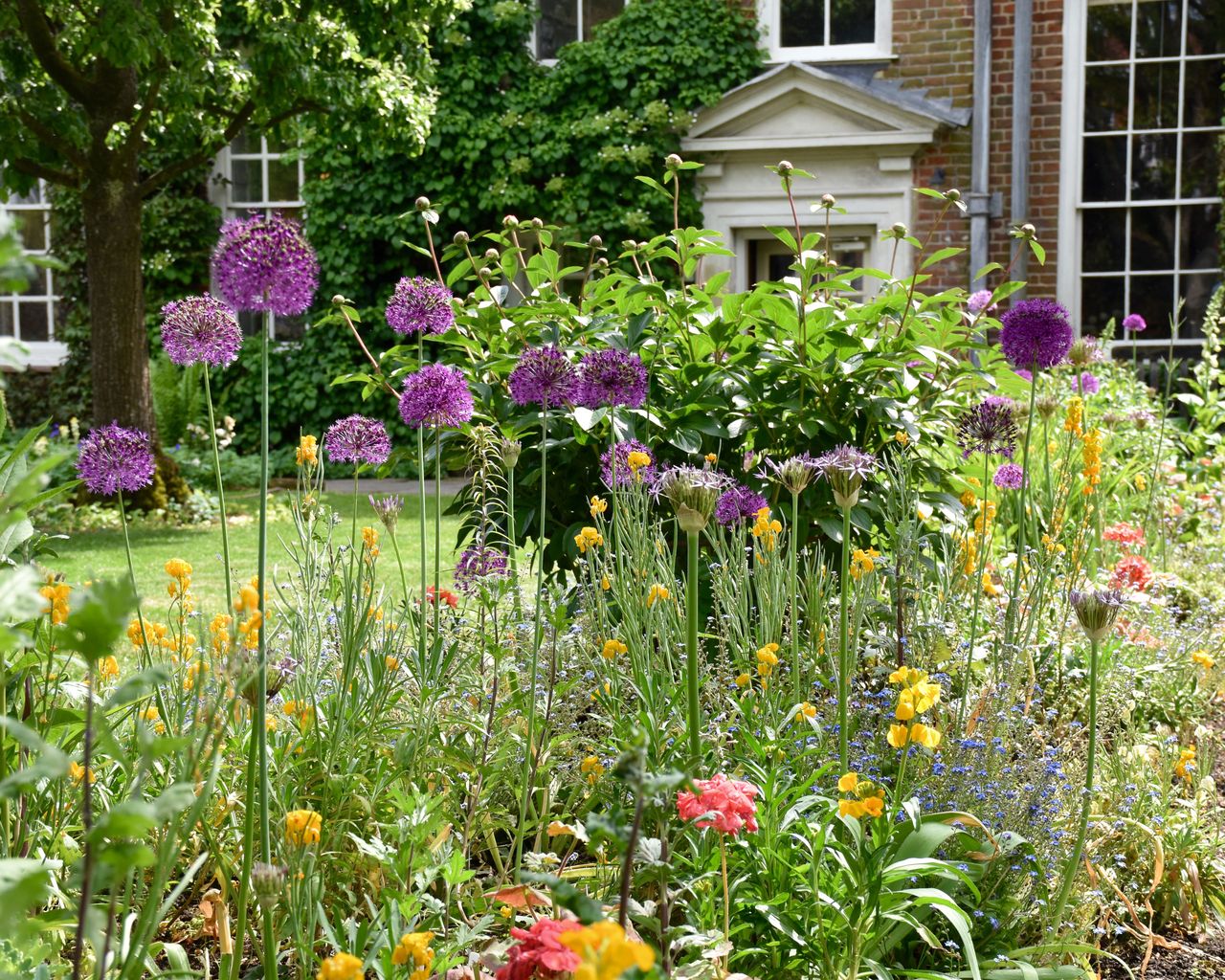 "Georgian garden landscapes used nature as a guide, aiming to provide new perspectives and views at every turn, so that a visitor was constantly delighted by the variety of the garden," says Rosie Fyles, Head Gardener at the National Trust.
That doesn't mean you need a big outdoor space to get the look – the design elements below can be incorporated into small garden ideas just as successfully.
1. Plan an informal garden layout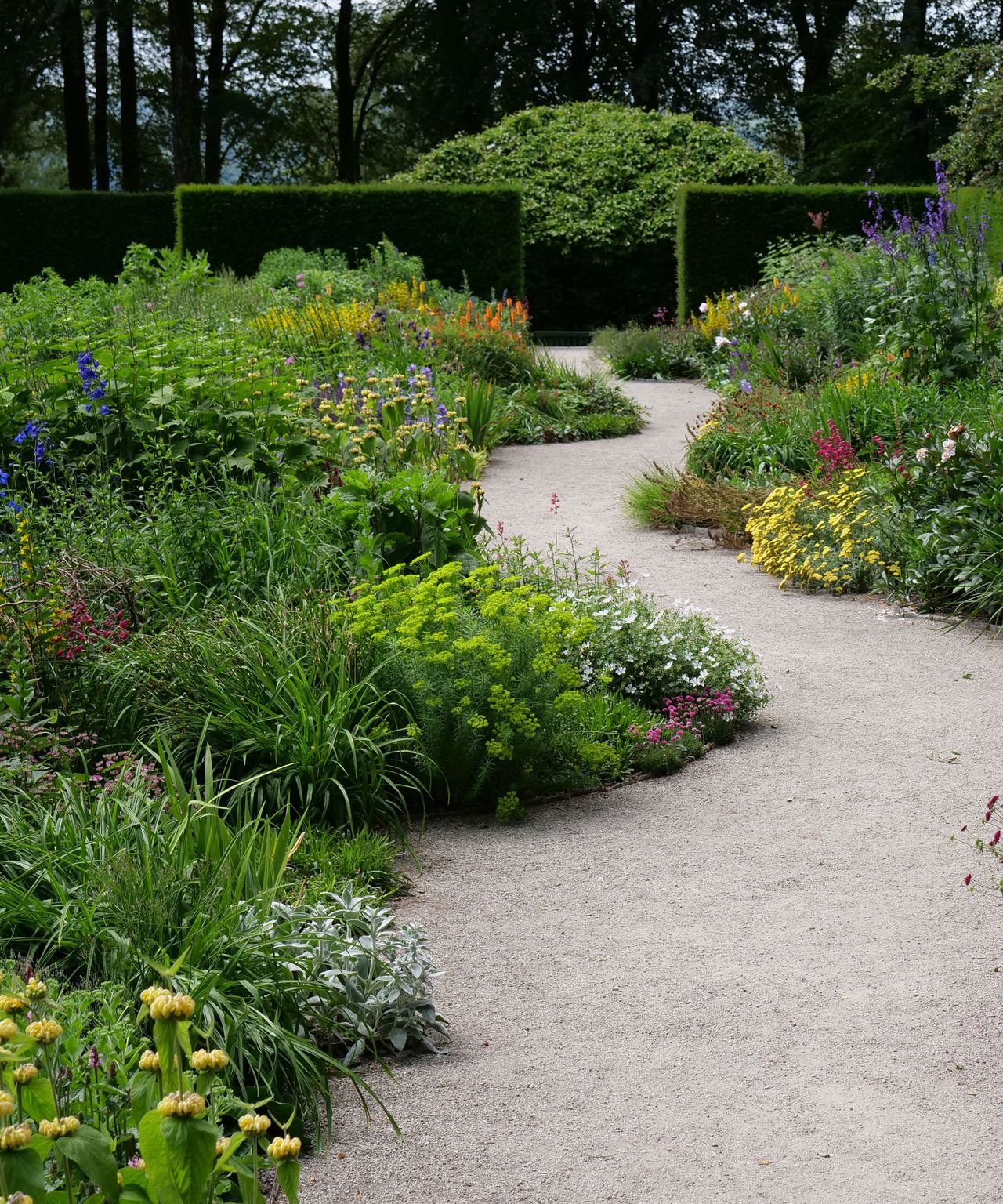 "The layout and features of a Georgian garden are guided by simplicity, nature and fun," says Rosie.
However, although there appears to be a natural simplicity to the Georgian garden, which is in fact man-made, says Katherine Alker, who cares for Croome's beautiful landscape garden, which was created by Lancelot 'Capability' Brown and was described as 'one of Britain's most innovative landscapes'.
"Georgian landscapes were heavily man-made, but they recreated natural features. Simple flower bed ideas or garden path ideas that a home gardener could apply is to use serpentine curves and shapes. You don't need to have straight edges for your borders and paths; curves and contours will give a more natural look," she says.
Winding paths through a garden, rather than straight routes, give the design a more natural and simple feel and guide the eye through the landscape.
2. Include aquatic elements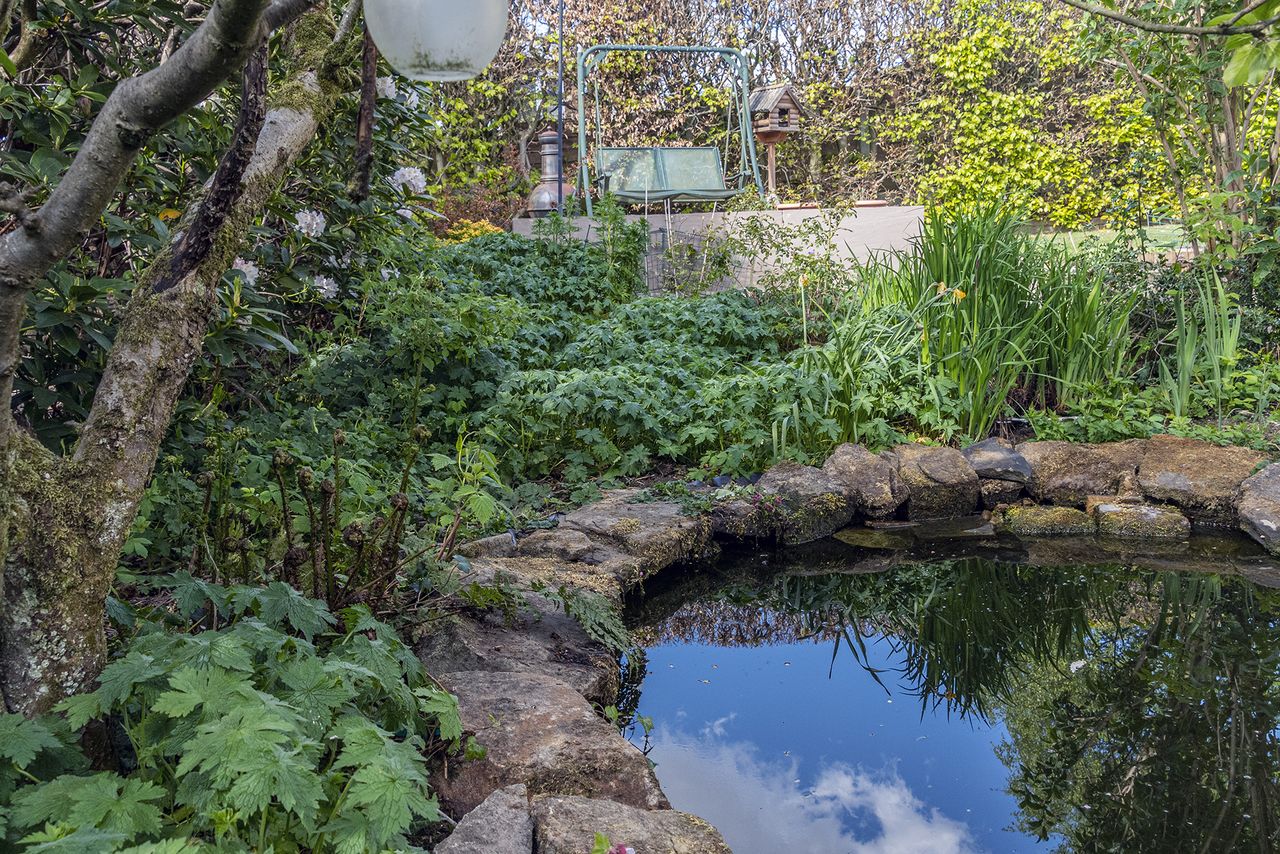 Water feature ideas are an important part of Georgian garden design.
"A swimming pool or water feature can add an extra touch to the atmosphere of your garden," says Rosie.
"Capability Brown created lots of meandering, meandering lakes, often with a clump or island of trees at one end, to make the lake look like it stretched out forever," says Katherine.
"You can use a similar perspective trick with a garden pond that's wider from your home's window perspective, then narrows with planting concealing the end point," she suggests.
3. Plant shrubs for seasonal interest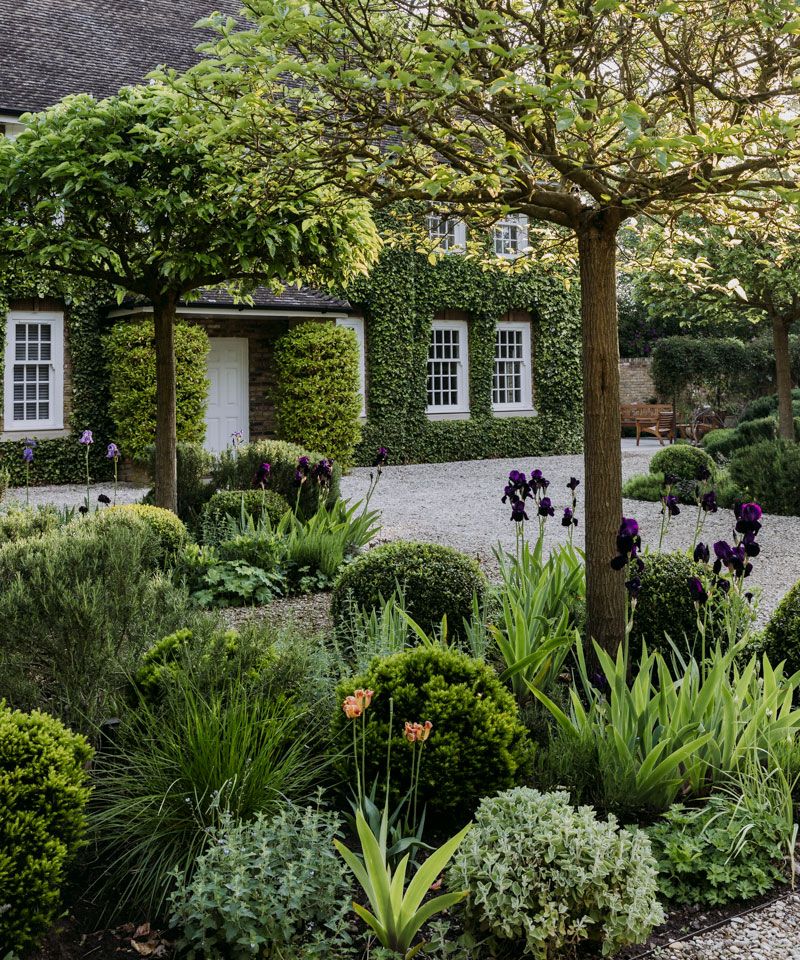 Shrubs were very popular with Georgian gardeners. "There was a 'craze' for flowering shrubs and American evergreens in a Georgian garden," says Andy Eddy, head gardener at Osterley Park and House, and expert in Georgian planting and plants.
"Inspired by the plants reaching the UK from the US east coast, many of which are named after the species"Virginia', Georgian gardeners could extend their interest throughout the fall with the colors added by these shrubs and trees," says Rosie.
"At home, you can do that with choice plants that add interest in the fall. Choose Caroline's silver bell, Halesia carolina, would give you spring, as well as fall color, as would Sassafras albidum Where Halesia monticola.'
Also look forward to your garden throughout the winter by including some of the best evergreen shrubs.
"Our evergreen shrub in Croome gives winter interest and is relatively low maintenance. Try creating an interesting bed with just conifers – and it doesn't have to be just evergreens – to give different textures and moods, and make the more colorful parts of the garden even brighter," advises Katherine.
If you're eager to create interest in your garden, some of the best fast-growing shrubs will soon fill it with color and texture.
4. Mix productive plants with ornamental plants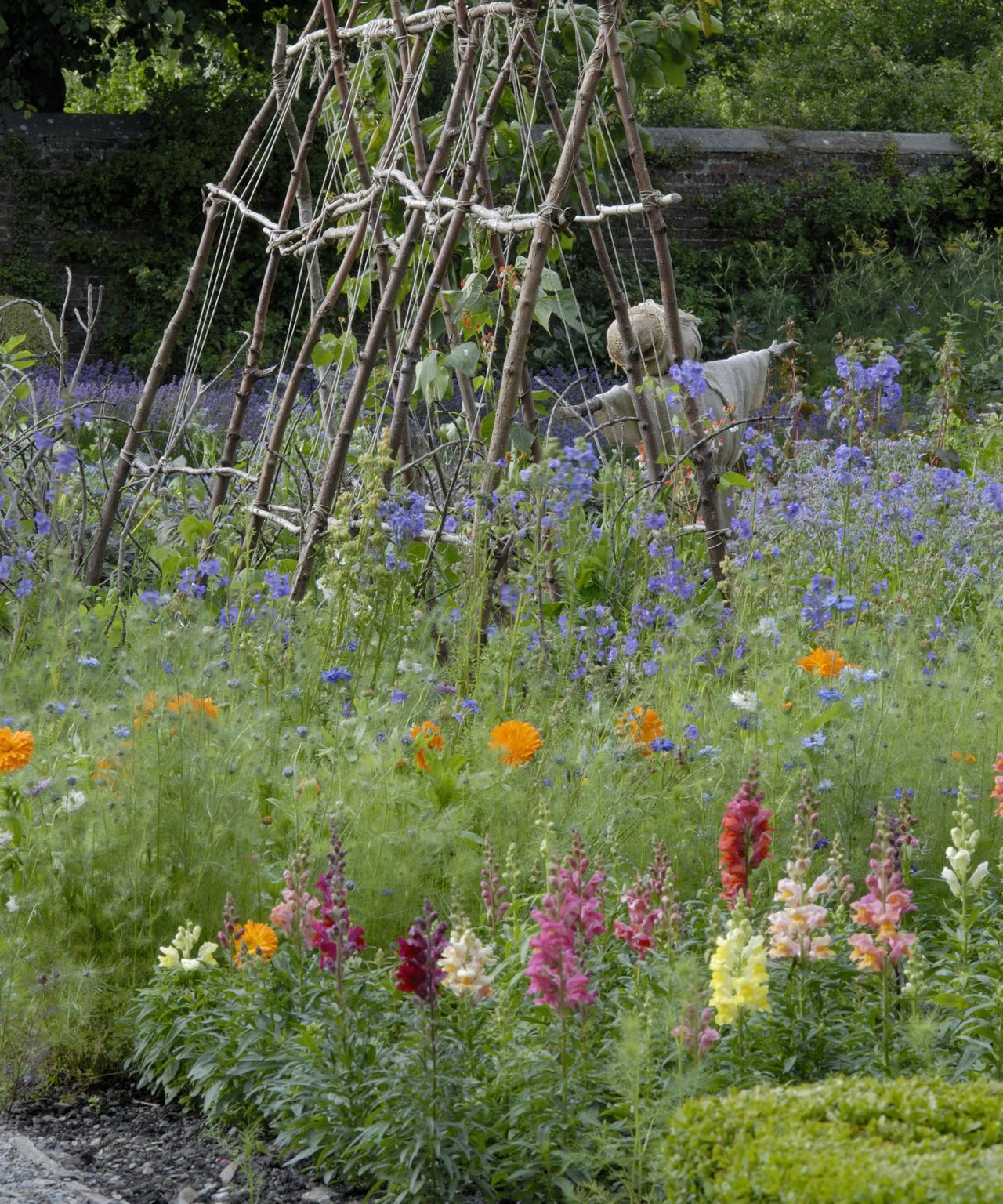 "Georgian gardeners were thrifty and resourceful – they might have pretty flowers in their gardens, but there were also many useful plants," says Rosie.
For example, William Wordsworth's garden is full of varieties of 18th century vegetables, fruits, herbs and flowers. Gardener Amanda Thackeray explains that in urban gardens of the time, people interspersed ornamentals, shrubs and roses with productive plants like grasses.
Planting in flower beds and garden borders was informal and naturalistic, with an emphasis on perennials and biennials.
"They were fond of plants with multiple uses. Good King Henry – Chenopodium bonus-henricus – also known as poor man's asparagus, was used as a dye to fatten hens, and the young stalks were eaten like broccoli," says Amanda.
You can follow this lead by looking for pollen-rich aromatic herbs such as catmint, lavender, and herbs like golden marjoram, which are beautiful and authentic, and will also help encourage bumblebees and butterflies as a garden idea. animal.
"Georgian gardeners loved some of the best fruit trees, especially apple trees. To maximize space in your garden, try growing an espalier against a wall," says Rosie.
In terms of rose garden ideas, old-fashioned fragrant varieties would make a good sympathetic choice. Or, for an authentic feel but with the benefits of modern plant breeding — like disease resistance — choose a repeat-blooming shrub rose.
5. Use features and planting to frame garden views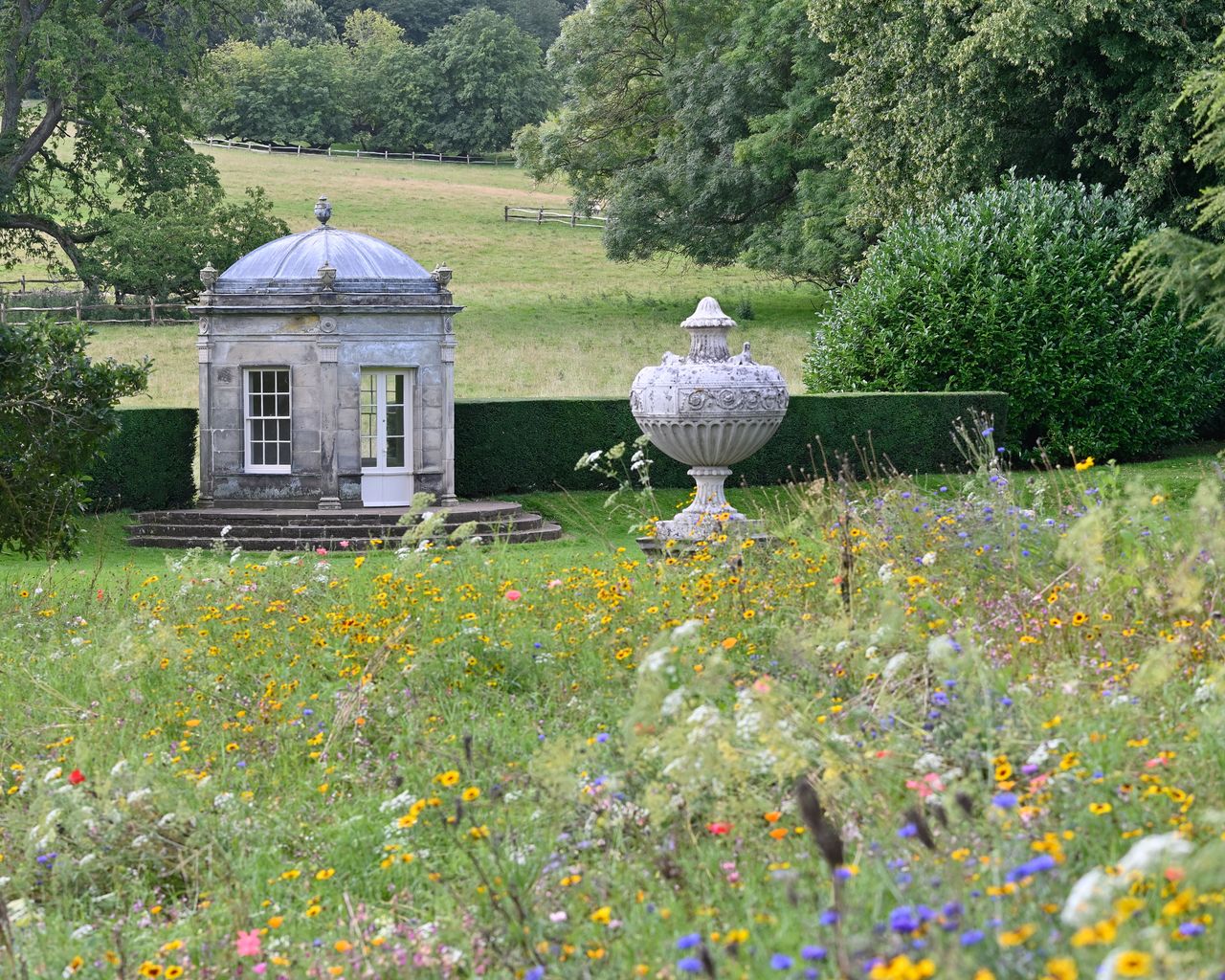 "Georgian garden design tends to avoid the use of physical barriers wherever possible, such as walls or fences, to provide an uninterrupted view," says Rosie.
Plants and features are used to frame views of the garden, obscuring and drawing the eye to a specific focal point.
You can recreate this idea on a smaller scale in an urban garden using borrowed views. "If there's an interesting tree in a neighbour's garden, for example, consider a low, fast-growing hedge or a lower planting to spread your view and avoid an abrupt 'end' of your own garden," suggests Katherine.
'Eyecatchers' – something artificial placed in the landscape as a focal point to attract attention – are often used in Georgian garden design. Like here at Kedleston, where a glimpse of an urn, partially obscured by planting, encourages you to look around the landscape.
'An eye-catcher can be more modest. The same could be done with an object such as a feeder or a small seating area," Rosie explains.
What is a Georgian Garden?
A Georgian garden can vary from large open landscapes with many views such as those designed in the 18th century by Lancelot 'Capability' Brown, to compact town gardens, such as Mompesson, which is maintained in a Georgian style.
What were Georgian gardens like?
There are different styles of Georgian gardens, but there are certain elements that they would have had.
"Just like gardeners today, Georgian 'hands-on' gardeners tried different and new things. They were delighted to introduce new plants; straight lines were curved; materials, including brick and stone, were reused and reused; the lawns were labor intensive and therefore were small, or maybe there were none at all; they borrowed vantage points and looked beyond their borders, and the planting was mixed," says Rosie.
If you want to recreate a Georgian-style garden, "even if you decide to have defined borders, even in a more formal form, try to make planting inside informal and naturalistic," says Colin Hayman, gardener at Mompesson .
"Experiment with the plants you choose, creating a frame of perennials first, then interspersing them more freely. I doubt that an annual litter was used," adds Colin. "There would have been a focus on perennials and biennials, people saving seeds and learning how to take cuttings of roses and the like and grow from cuttings."
Source link